Northwest Sea Duck Hunting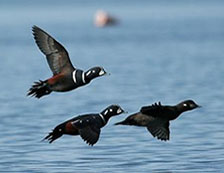 Sea duck hunters, fishermen and families will find a uniquely Pacific Northwest outdoor experience with Peninsula Sportsman. We specialize in offering custom sporting adventures around Port Townsend and the Olympic Peninsula.  Our premier waterfowl hunts cater to sea duck hunters and collectors seeking over a dozen species of unique Washington sea ducks including Harlequin duck, Oldsquaw /  Long-tailed duck and Barrow's Goldeneye.
Port Townsend Fishing
Fishing opportunities around Port Townsend and the Olympic Peninsula are plentiful.  Anglers on our private fishing charters will find the waters surrounding Port Townsend abundant with sportfish and shellfish including Pacific Halibut, Lingcod, Seabass and Rockfish, Dabs/ flounder, Salmon, Sea-Run Cutthroat Trout, Dungeness Crab, Spot Prawns, Oysters and Clams.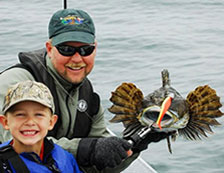 Peninsula Sportsman offers family activities including private Sightseeing Charters to view nearby           Protection Island National Wildlife Refuge sea birds, seals and other marine wildlife and local half Day Charters for nearshore Fishing and  Shellfishing to set "pots" for locally abundant Dungeness Crab and Spot Prawns and beach digging for steamer Clams while exploring the tidelands for all sorts of marine creatures.
The Cabins at Treefrog Woods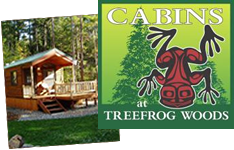 In addition, we are a destination for those seeking a quiet getaway to Port Townsend for a relaxing week or weekend at The Cabins at Treefrog Woods — Enjoy your time away in our cozy and private cedar vacation cabins.
Peninsula Sportsman is located a short distance from Port Townsend, Washington's historic waterfront.  Spend a day exploring this Victorian seaport and its numerous festivals and shopping, or venture a short distance into the Olympic National Park for breathtaking views of our surrounding mountains and shoreline.  Port Townsend is located approximately 80 miles / 1.5 hours northwest of Seattle, within a reasonable distance from SeaTac International Airport by vehicle ferry or highway.
Port Townsend Vacation Cabins >>