Elliotts BIG Fish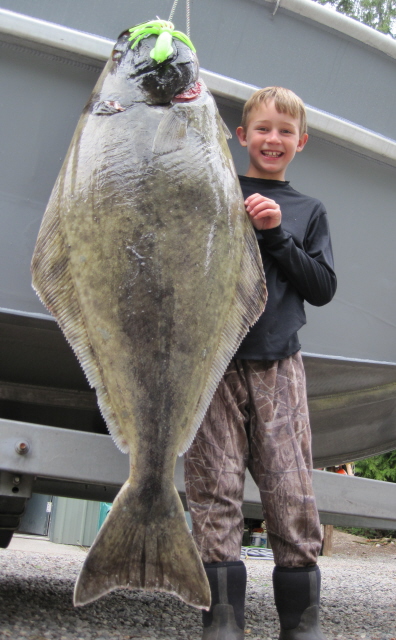 Saturday we hosted a charter Fishing/ Shrimping trip with Dan Drust , sales manager for the Filson Company in Seattle. Dan and his family were enjoying the cabins for the weekend. The weather and water was great and with shrimp limits in the boat and tide now running strong we decided to head a bit offshore of Port Townsend for some halibut fishing. Large B2 squids and an assortment of baits were sent to the bottom in 200 feet of water.
On the first drift Dan get a big hit on the herring and pulls up his bait to find big teeth marks. Shortly after the same happens to the B2 jig on my own rig. Back up the drift we go and send the lines back down. I hand my rod over to our own professional fisherman and deckhand-in-training Elliott as I work on sorting out a few things on deck. That's when Elliott mutters that something is on the line! He sets the hook hard and whatever's on the end of that line proceeds to thump with distinctive headshakes—halibut on! Elliott battles the beast as long as he could while Dan and myself got the boat ready to land a big fish. Harpoon and gaf at the ready we all take turns fighting the fish until it is within sight. A well placed 'poon shot in the head and the fish attempts another run to the bottom only to be held strong with the white harpoon bouy.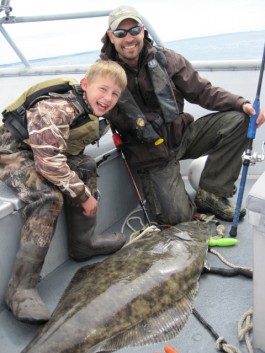 It took all three of us but we eventually wrestled the fish back to the boat and over the rail. Victory ! Later at the shop we weighed and measured the fish @ 53" and a whopping 75 lbs. … Fresh halibut and spot prawns on the grill tonight !