Fly Fishing Port Townsend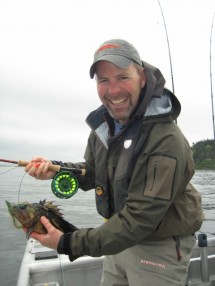 ~ Conventional fishing gear isn't the only way to enjoy our often "wide open" bottomfishing here on the Peninsula. Many fishermen know the fun of presenting dry flies and small clousers to our plentiful sea run cutthroat trout  but when the spring and summer tides are right and fish on the bite we'll occasionally switch over to the Fly Fishing gear and enjoy some really exciting catch and release fishing for the toothy denizens of our local reefs. Stout rods in 9-12 weight with heavy sinking lines and big bucktail streamer and clousers is the proper gear.  We work on casting then drifting flies down to reef level and the fish often cooperate enthusiastically.  Black rockfish are somewhat pelagic and chase presented flies all the way to the surface. 

Copper rockfish, greenling and lingcod will attack when your fly gets closer to the reef.  Most of these fish are in the 1-6 lb range but hang on as LARGE lingcod have been known to chomp down on flies and then the battle really gets interesting !