Good eats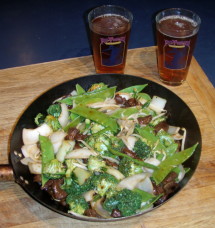 The majority of our guided duck hunts cater to collectors and hunters seeking that spectacular plumed drake destined for the taxidermist and ultimately a proud spot in their homes, offices and memories. All of us here at Peninsula Sportsman appreciate the challenges of these hunts and the reward of successful days on the water and in the blind. In addition to beautiful ducks on the wall this reward also includes the enjoyment in preparing, cooking and eating the wild game we harvest and waterfowl are some of the best of the wild meats. Most of the ducks we hunt here in coastal Washington have similar flavored meat regardless of species due to their diets in the saltmarsh and estuaries where they spend the Fall and Winter. These birds are a long way from the grain fed goodness of the Canadian prairies and interior. Certainly some of the species take a little more creativity and marinating than others ( the fish eating mergansers being one of the more challenging ),  but all of the waterfowl we hunt including the sea ducks and divers are definitely edible, versatile and delicious if prepared and cooked correctly. This starts with properly cooled down birds that are plucked, cleaned, boned and meated out w/ all of their skin and fat removed ( this is what often retains the "off" flavor of many wild ducks ). Soaking this meat overnight in a light saltwater brine helps remove any of the residual blood in the meat and the result is a clean heap of boneless "organic" lean meat that is delicious and versatile in a variety of recipes. A handful of our favorites include Scoter stew, Tiffany's famous duck chili, duck poppers, Scoter'Roni and a variety of Asian Stir Fry dishes among others.
Stir Fried duck w/ Broccoli and Snow Peas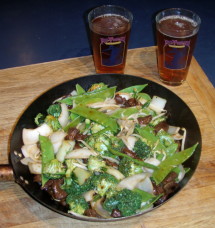 Jalapeño Duck Poppers with fresh grilled Hood Canal Oysters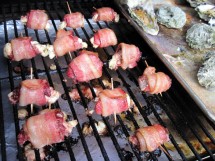 We enjoy these smoked sticks and jerky throughout the year – fishing , hunting, camping, football games and get togethers– they are the perfect snack anywhere.