Graduation Present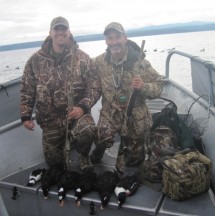 ~ Here at Peninsula Sportsman Headquarters we've had the pleasure of hosting a father/ son duo from CA for the past few days. Dad Russ presented this trip to his son RJ as a graduation gift for completing college last year ( nice Dad ! )  Highlights of the trip–Day one RJ gets on the board early with a primo bull drake harlequin and a few other msc. greenheaded birds ( his co-workers back at Bass Pro Shops in Ca. will be envious ) It doesn't take his Dad Russ long to take a near perfect match bird … these feather perfect drakes were brought down w/ single shots of #4 HeviShotand they both look almost tranquilized. Quite a mix of early season ducks on the log by mid-morning.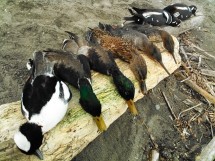 Day to brought a scoter hunt,  the birds came quick and it didn't take long to carve out some nice drake whitewings and surf scoters from the flocks. Father/ son each took good representatives then we watched as many, many, many more landed in the rig … luckily some black and white made a show with some of the first buff flocks and a really nice Barrow's drake dumped in as a capper.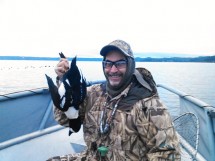 Three days hunting with these guys was a fun as it gets. Great company, and positive attitudes even when the weather shifted w/ 50kt winds yesterday and we were "forced" to hunt from the beach. Some really nice birds taken on their trip, their taxidermist back in CA is going to be busy.
One Response