Lingcod Ceviche – Baja Style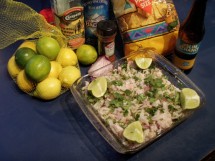 The people of Latin America have been making Ceviche from fish and shellfish for over 2000 years. It's simply a concoction of fresh seafood marinated in lime, garlic, peppers and spices. What a great dish to serve in the summertime to beat the heat. This recipe is adapted from one of my favorite places on earth— Rancho Las Cruces in Southern Baja California. Either stacked on top of a crispy tortilla or served with chips it is certainly one of my favorites. A staple during fiesta hour.
Ingredients—
1 lb FRESH ( just caught ) Lingcod fillet.
Boned and diced into very small pieces. Freezing it overnight will kill anything in the meat and make it easier to dice. You can substitute w/ fresh Halibut , Seabass or Greenling.
½ Red onion – diced
1-2 Serrano peppers – halved and seeded. Diced
1 ½ tbsp chopped garlic
2 tbsp cilantro
4 limes, halved and juiced
¼ tsp olive oil
¼ tsp chili powder ( hold off on this one if you are serving to little ones )
Sea salt to taste
Combine all ingredients in a non-reactive shallow contained such as Pyrex. Stir together well and let set the refrigerator overnight. Serve over tostada shells and garnish with avocado slices. Maybe add some of your favorite hot sauce if you like heat.
Enjoy !