Opening weekend surfs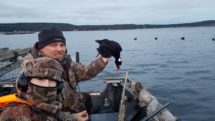 Last weekend marked the opening day of waterfowl for 2017 as we celebrate our 19th season guiding hunters on these spectacular ducks. Calm waters and brisk temps in the upper 30's were presented to us on opening morning, so the sites were set on a quick hunt for the plentiful flocks of surf scoters that have been marauding a local mussel farm.
Action was consistent on these "toucan bills" as they moved in on first light and in short time 4 limits of drakes were on the gunnels and a hungry crew heading to breakfast.