Sea Duck Hunting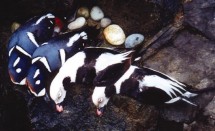 Waterfowl hunting on the coastal and inland waters of Washington State's Olympic Peninsula ranks among the best in the Pacific Flyway. This area of the Pacific Northwest hosts a wide variety of resident and migratory sea ducks, diver ducks and puddle ducks that spend the greater part of Fall and Winter on the inland waters, estuaries and saltwater bays of the Northern Puget Sound, Hood Canal and Strait of Juan de Fuca. Due to our temperate climate and a bounty of food sources, numbers of waterfowl arrive from their breeding grounds in Alaska and Northern Canada to winter on the waters here. Many of these unique sea duck species do not migrate any further south in the Pacific Flyway. The areas we hunt provide consistent opportunities for a variety of sea ducks including Harlequin duck, Oldsquaw / Long-tailed duck, Barrow's Goldeneye and three species of Scoter.
Peninsula Sportsman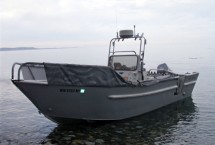 specializes in trophy diver and sea duck hunting in coastal Washington State, utilizing custom handmade decoys and traditional decoy rigs. The majority of sea duck and diver duck hunting is performed from our safe, stable and comfortable tender boat. This Yamaha powered, Deep-V hulled, custom welded aluminum boat is well adapted for our regional style of hunting. The strength and design of this heavy duty tender boat allows for safe transportation and hunting in most weather conditions. Be assured that your head guide Captain David Drewry operates as a fully licensed and registered USCG Master Captain and has the time and experience to safely navigate these waters. Due to the unique geography of the Olympic Peninsula we are able to hunt large areas of prime waterfowl habitat within a short driving distance of our headquarters. Many of these hunting areas see little hunting pressure throughout the season and most are within reasonable distances from our various boat launches, keeping over water travel to a minimum. Hunters enjoy the convenience of lodging near the hunting areas in our comfortable cedar vacation cabins and homestyle Pacific Northwest cooking featuring fresh local seafood and game.

Sea Duck hunts target Harlequin duck, Oldsquaw / Long-tailed ducks, Barrow's Goldeneye, American/ Common Goldeneye, White-winged, Surf and Black Scoter, Bufflehead, Greater and Lesser Scaup / Bluebill, Hooded, Common, and Red-breasted Mergansers.
Sea Duck hunting is exceptional for the premier trophy diver and sea ducks available in coastal Washington State. Captain Dave Drewry has decades of experience setting his own handmade decoys and traditional decoy rigs on all hunts. Our 22′ Leeshore CC Swiftsure custom welded aluminum offshore tender boat, Bankes Revolution 2 man layout boat, Kevlar reinforced MLB Classic single man layout boats, Duckwave Humboldt Bay style 2 man scull boat and driftwood shore blinds offer excellent gunning platforms for our sea duck hunters. When hunting the shallower estuaries, back bays and tidelands we deploy a shallow running Lund SSV skiff, Aquapod marsh boats and Final Approach layout blinds as these are extremely effective for hunting tidal areas. The options of these multiple boats, blinds and locations allow us the ultimate flexibility for planning and increased success on our hunts. Sea ducks and divers are among the toughest and fastest of all waterfowl. These hunts are action packed as these striking sea ducks, divers and puddlers will decoy readily to our custom rigs and provide close, yet challenging shots.
Salt Marsh hunts target Northern Pintail / sprig, American Wigeon ( and the occasional Eurasian ), Mallard, Green-winged Teal, Gadwall, Northern Shoveler, Bufflehead, Canvasback, Lesser Scaup/ Bluebill, Ringneck ducks, American Goldeneye, Common and Hooded Mergansers.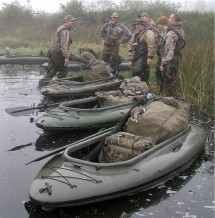 Typically, the majority of our sea ducks and divers arrive around the latter part of October. The onset of late fall and winter brings a regular supply of fresh migratory flocks and waterfowl continue to stack up in this area throughout the hunting season. Our surrounding hunting area is the wintering grounds for many of these waterfowl species. The inland waters of the Salish Sea offer a milder winter climate as compared to the more extreme hunting conditions of those exposed open coastal sea duck hunting areas further north. Fortunately, our local waterfowl hunting is seldom cut short due to prolonged freezing weather and very rarely do we miss the opportunity to hunt due to severe weather conditions.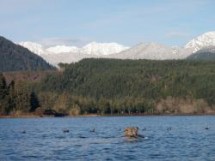 Peninsula Sportsman specializes in custom trophy sea duck hunting for a variety of unique species including Harlequin duck, Oldsquaw / Long-tailed duck and Barrow's Goldeneye. Our services operate within the largest and most productive sea duck hunting areas in Western Washington.
Since 1999 Peninsula Sportsman Guide and Outfitting has been offering premier waterfowl hunts, service and lodging for the most discerning hunters around the country. Our guide services provide the best opportunities for unique trophy ducks with top-notch gear, experience, reputation and professionalism.
2018 Washington Waterfowl Season:
October — January
---

U.S.C.G. Master Licensed Captain
Fully Licensed and Insured Waterfowl and Fishing Guides
Peninsula Sportsman Practices Strict
Fair Chase Hunting for all Waterfowl Species.