Steamer Clams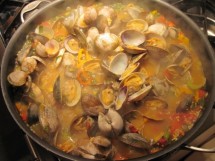 Sure is fun heading down to the tideflats on a spring day for some steamer clam digging… and the rewards for a half hour spent digging in the mud ?  Good times and a heck of a clam dinner for the crew.
Tiffany's Port Townsend Steamer Clams
2-3 limits fresh Manila or Native Littlenecks in shell ( approx. 3 lbs)
32 oz. organic vegetable broth
fresh basil
2 tablespoons minced garlic
one can tomatoes, diced
1 tablespoon olive oil
sea salt to taste
glass of chardonnay ( for the cook , dash for the clams )
Rinse and scrub clams. Combine broth, basil, tomatoes salt and garlic in a deep Paella pan or pot, cover and bring to a boil. Add clams and bring back to boil on simmer- clams are done when they have all opened fully. Serve clams in bowls with broth and slices of baguette bread for dipping.