Whitewing Bling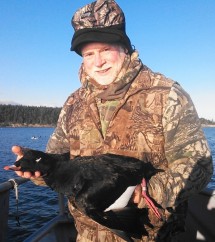 One of our hunters took a really nice whitewing drake on a scoter hunt this
morning, and whatdya know … it was wearing BLING ! congrats Scott. The stainless leg band was still dime bright even though this scoter was banded as a
3 year old bird wintering here in Washington 2005. That's a 10 year old bull drake !